"Discover the difference. Discover the future. The art of making music with Allen Organs is simply enjoyable!"
(click the photos to enlarge)
Two-Manual Installations

---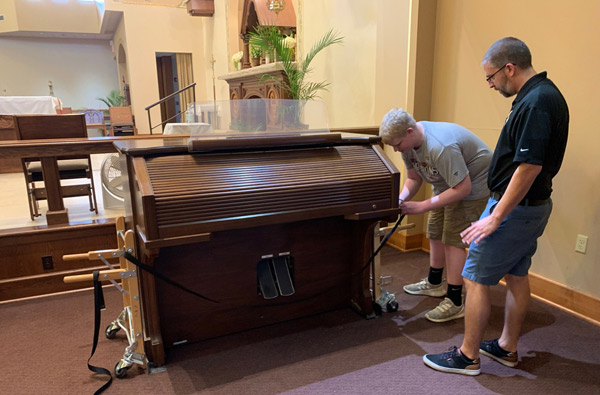 St. Bernard Catholic Church, Wamego, Kansas
40 Stop, Two-Manual Digital Organ
Allen's superior quality and product longevity is a true testament for this recent installation. After 50 plus years of music service, St. Bernard Catholic Church in Wamego, Kansas upgraded from their TC-4 Allen Organ to the new GX-215 Allen Organ with APEX Technology. In the pictures (top) the TC-4 (first installed in May 1964 in the original church, and then relocated to the current church in 2010) is being prepared for removal as part of the installation process for their new Allen Organ. Allen's consistency of commitment with superior quality and sounding instruments with full product support are a few of many reasons why St. Bernard parish chose Allen Organ Company for their new organ.
St. Bernard's new GX-215 features Allen's new APEX tone generation technology, Allen premium keyboards with velocity keying, GENISYS™ Display, GENISYS Remote app for remote operation, multiple organ suites, 34 Stops + 6 GENISYS™ Voices yielding 40 total Stops, external MIDI port, Expanded Audio Capabilities (EAC), and console dolly.
---
Three-Manual Installations

---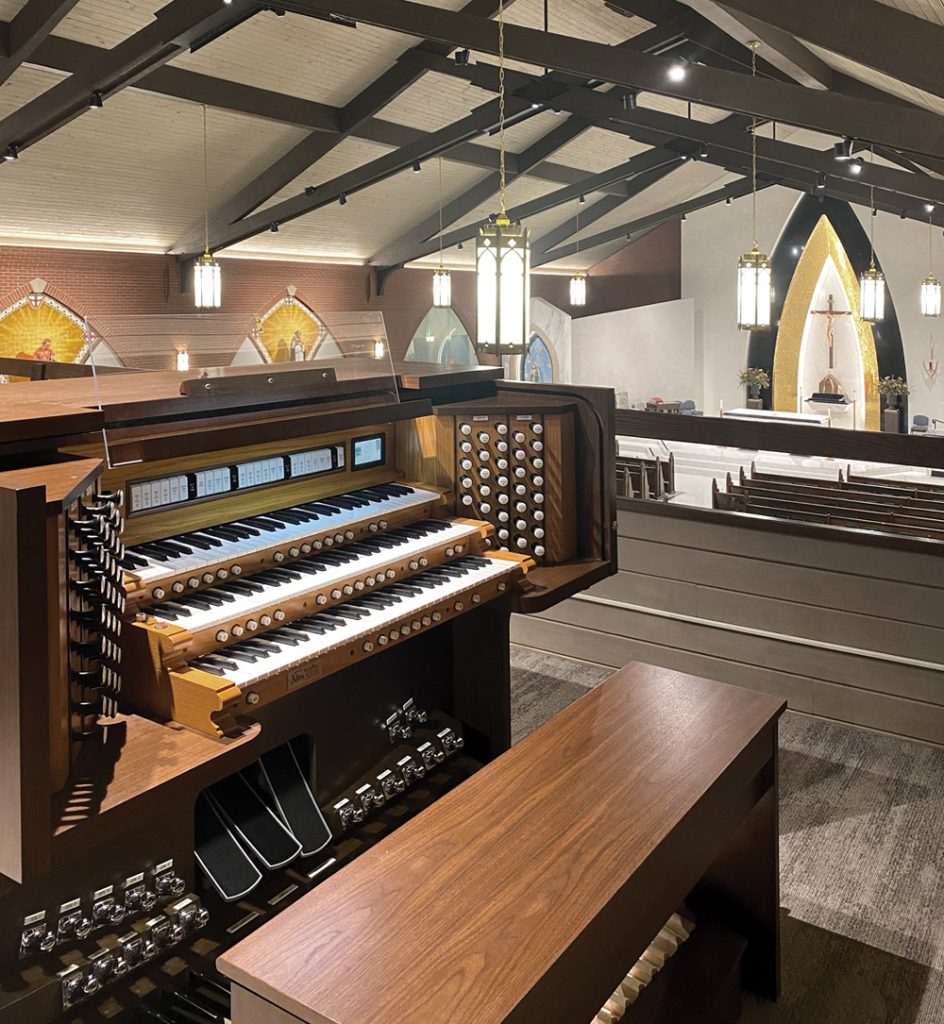 St. Thomas Aquinas Catholic Church, Wichita, Kansas
66 Stop, Three-Manual Digital Organ
As part of a recent church renovation; St. Thomas Aquinas Catholic Church in Wichita, Kansas, replaced their 1982 Allen SYSTEM 1405 digital organ with a new Allen GX-350DK GENISYS organ featuring Allen's APEX tone generation technology. The renovation included changes to the Sanctuary, Nave, Baptistry, Adoration Chapel, and Choir Loft.
Even though the 40-year old organ was serving the church well, having the benefits of a newer more versatile instrument that includes GENISYS Voices, multiple stop lists, many memory levels, and in-field upgrades through software with a superior quality build product, the church chose to stay with Allen. As the parish's music program continues to evolve into the future, Allen remains a cornerstone of their ministry.
St. Thomas has been part of the Wichita area since 1957 when it was established with 150 families and today, has grown to over 1500 families!
Click to view this featured as one of Allen's Organ of the Week consoles
---
Four-Manual Installations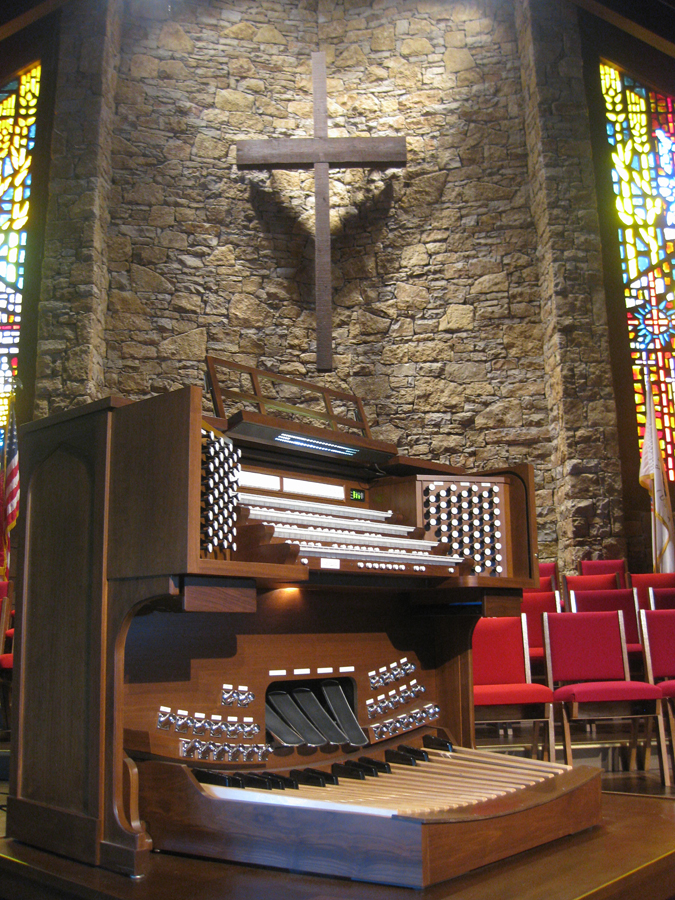 ---
NOTABLE INSTALLATIONS

First Christian Church, Garnett, KS   27 Stops/Two-Manual
Trinity Lutheran Church, Fort Scott, KS   27 Stops/Two-Manual
St. Joseph Catholic Church, Waverly, KS  24 Stops/Two-Manual
Trinity Lutheran Church, Girard, KS   29 Stops/Two-Manual
LDS Church, Iola, KS   38 Stops/Two-Manual
St. John's Episcopal Church, Abilene, KS   29 Stops/Two-Manual
St. Andrew's Catholic Church, Abilene, KS   34 Stops/Two-Manual
St. John's Catholic Church, Herington, KS   34 Stops/Two-Manual
Lewis United Methodist Church, Lewis, KS   34 Stops/Two-Manual
Immaculate Heart of Mary Catholic Church, Hays, KS  34 Stops/Two-Manual
Lady of Guadalupe Cathedral, Dodge City, KS   56 Stops/Three-Manual
Faith Mennonite Church, Newton, KS   29 Stops/Two-Manual
Desoto United Methodist Church, Desoto, KS   35 Stops/Two-Manual
Salem Lutheran Church, Lenexa, KS   35 Stops/Two-Manual
Norwich United Methodist Church, Norwich, KS   27 Stops/Two-Manual
Mound City Christian Church, Mound City, KS   23 Stops/Two-Manual
Marion Presbyterian Church, Marion, KS   35 Stops/Two-Manual
McPherson Free United Methodist Church, McPherson, KS   50 Stops/Three-Manual
Grace Lutheran Church, McPherson, KS   45 Stops/Two-Manual
Andover Lutheran Church, Andover, KS   29 Stops/Two-Manual
Mercer Baptist Church, Mercer, KS   27 Stops/Two-Manual
Richfield United Methodist Church, Richfield, KS   27 Stops/Two-Manual
Westview Baptist Church, Chanute, KS   45 Stops/Two-Manual
First Lutheran Church, Phillipsburg, KS   27 Stops/Two-Manuals
LDS Church, Wamego, KS   40 Stops/Two-Manual
Bunker Hill United Methodist Church, Bunker Hill, KS   27 Stops/Two-Manual
Assaria Lutheran Church, Assaria, KS   35 Stops/Two-Manual
First United Presbyterian Church, Derby, KS   24 Stops/Two-Manual
St. Joseph, Mt. Hope, KS  29 Stops/Two-Manual
Mulvane United Methodist Church, Mulvane, KS   33 Stops/Two-Manual
St. Paul Newman Center, Wichita, KS   32 Stops/Two-Manual
Tabor College, Hillsboro, KS   50 Stops/Custom Three-Manual
Grace Lutheran Church, Wichita, KS   34 Stops/Two-Manual
Sisters of St. Joseph, Wichita, KS   31 Stops/Two-Manual
University United Methodist Church, Wichita, KS   35 Stops/Custom Two-Manual